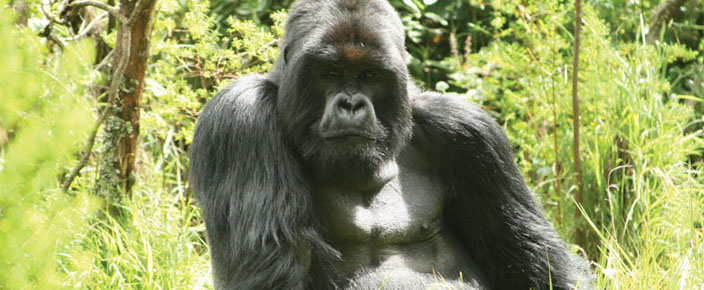 About this tour

| Travel Date | Days | Price |
| --- | --- | --- |
| Sun, Nov 12, 2017 | 13 days | $3,299.00 CAD |

A trip of a lifetime comes true in Eastern Africa in 2017. Starting in Kigali, you'll learn about the turbulent past of Rwanda and its genocide period. You will then travel on a customized overland vehicle and enter Uganda where a major highlight awaits you.

The guided Gorilla Trek in the Bwindi Impenetrable Forest is one of the most unique experiences you will encounter, and best to see these endangered species up close now before any major changes occur in the upcoming years. After visiting a Batwa pygmy village, you will cross the equator (one foot on the North and one on the South? Yes!) with a quick visit to Kampala and continue to Jinja, its adventure capital. After getting your adrenaline pumping by rafting, mountain biking or yoga by the Nile River, you'll say goodbye to Uganda and say Jambo to Kenya. Your first stop will be Lake Naivasha, where you can explore its adjacent Hell's Gate National Park by foot or bicycle, and even be woken up by the loud hippos in the morning gulping some fresh lake water. If hippos, zebras, and giraffes is what you love, then look no further than the game drives in the Masai Mara on 4WD vehicles. Last stop is the bustling capital of Nairobi where if you spend more time, you can visit a giraffe sanctuary and an elephant orphanage where you can even adopt one. What a great 13 days you will have.

Last stop is the bustling capital of Nairobi where if you spend more time, you can visit a giraffe sanctuary and an elephant orphanage where you can even adopt one. What a great 13 days you will have.

Itinerary

Day 1: DAY 1: ARRIVE KIGALI

The first day of your tour is simply an arrival day with no pre-organised activities. In order to allow time to relax and see some of the sights you may wish to add pre tour accommodation. On arrival please ask at the reception for information on when the pre departure meeting will be held.

Welcome to Kigali, Rwanda's capital. Kigali is the largest city of Rwanda, and is a large cultural and commercial hub.

Kigali has had a turbulent past and was the scene of the Rwandan Genocide which you will learn more about tomorrow. In the recent years, it has transformed and is now one of the most attractive cities in Africa with pretty boulevards, tasty restaurants and a lively atmosphere. On arrival the rest of your afternoon / evening is free to relax.

Please note: A yellow fever vaccination is required for travellers arriving from all countries. Those travelling without a valid yellow fever certificate will have to pay $40 for a vaccination on arrival.

Accommodation: 1 night(s) in hotels

Day 2: DAY 2: LAKE BUNYONYI

After breakfast, you will be collected from your hotel and taken on a private guided tour to visit the Nyamata Church Genocide Memorial, Kigali Genocide Memorial Centre & Hôtel des Milles Collines (Hotel Rwanda), where you will learn about the recent history of Rwandan Genocide and the mass execution of the Tutsi population.

We will make a brief stop for lunch before leaving the capital. We will pass through lush countryside, and rolling plantations, seeing many locals go about their daily lives before crossing the border into Uganda,our third country in as many days, where you will then be transferred to Lake Bunyonyi, arriving late afternoon

Lake Bunyonyi is our base for the next few days and will be the start point for our excursion to see endangered mountain gorillas in the Bwindi Impenetrable Forest. There are believed to be less than 800 mountain gorillas remaining in the world, and about half of that population live in this forest. To watch them in their natural habitat is a heart-stirring experience.

Please note: A yellow fever vaccination is required for those travelling between Uganda and Rwanda from all countries. Those travelling without a valid yellow fever certificate will have to pay $40 for a vaccination on arrival.
Approximate Travel Time:Four hours depending on the border
Included Excursions: Nyamata Church Genocide Memorial • Kigali Genocide Memorial Centre • Hôtel des Milles Collines (Hotel Rwanda)
Accommodation: 1 night(s) in tented camps

Day 3: DAY 3: LAKE BUNYONYI (GORILLA TREK)

Today can be quite a long day so make sure you pack enough water in your day bag to keep hydrated on your trek. To reach the trekking start point, we will be picked up early in the morning to head for the national park. Expect to trek for up to eight hours today as specialist guides go ahead of you, early in the morning and track the gorilla spoor and look for signs of the gorillas last movements. The distance you trek is unpredictable and varies depending on how active the gorillas are. Some will not move far from where the trackers left them the day before while others will travel long distances in the search for food.

Bwindi Impenetrable Forest is a series of rolling hills with heavy foliage and trekking to the gorillas can often involve steep uphill or downhill climbs, sometimes on uneven and wet terrain. Hiking boots are important and you can rent walking sticks at an extra cost to stabilise your feet. The altitude in the forest is varied, with the highest point being 2607m above sea level and 60% of it being over 2000m. With this in mind, you might find hiking through the terrain slightly more difficult than at sea level. Your guides will keep you give you a detailed safety briefing before you depart on the hike and will reiterate key points shortly before getting close to the gorillas.

Your time with the gorillas is restricted to one hour. This is to safeguard the gorilla families and prevent excessive human contact. You can admire the animals and take photos so make sure your batteries are charged and your memory cards empty. Once your hour is up, you will begin the climb out of the forest. Your guides will take you to the nearest road where a 4WD should be waiting to take you back to camp.

Included Excursions: Guided Gorilla Trek in the Bwindi Impenetrable Forest (Gorilla Permit included)
Accommodation: 1 night(s) in tented camps

Day 4: DAY 4: LAKE BUNYONYI

Today you will have a free morning to relax and recuperate after your trek. Alternatively if you wish to explore the area a little more, then you can opt to visit some of the locals in nearby villages, take a swim in the lake or walk up to some of the amazing viewpoints which overlook the lake.

Lake Bunyonyi is around 29 kilometres long and 7 kilometres wide, dotted by 29 islands. Look out for Uganda's national bird, the crested crane, among the 200 other bird species in the area.

In the afternoon we will board our dugout canoes and cross the lake to head to the Batwa pygmy village and school. The school was set up by an ex tour leader with the assistance of two passengers to help the local community and pygmy children integrate into Ugandan society. The cost of this included excursion goes directly to the school and donations of school supplies are always welcome. After visiting the village we will take the canoes to another island to enjoy a delicious buffet dinner before arriving back at our resort later that evening.

Included Excursions: Batwa pygmy village and Lake Bunyonyi excursion
Optional Excursions: Guided visit to meet locals and participate in local customs – US$5
Accommodation: 1 night(s) in tented camps

Day 5: DAY 5: KAMPALA

After experiencing the beautiful scenery, spectacular wildlife and welcoming local communities of Lake Bunyonyi, we will be transported to meet our custom built overland expedition vehicle in the town of Kabale. From here we will make our way to Uganda's capital, Kampala. En route to Kampala we will be passing townships and local markets and will also make a stop at the equator to get that all essential picture of you with one foot in the Southern and one foot in the Northern Hemisphere! The equator has some of the best opportunities to purchase souvenirs in all of east Africa.

Approximate Travel Time: Nine hours to Kampala
Included Excursions: Stop at the equator
Accommodation: 1 night(s) in hotels

Day 6: DAY 6 TO 7: JINJA

After breakfast, we head to Uganda's National Museum in Kampala to learn about the cultural heritage of Uganda before making our way towards the source of the mighty Nile River.

Jinja is known for being the adventure sports hub of Uganda and offers world-class white water rafting on the Nile River as well as quad biking and mountain biking. There is plenty to entertain you in this buzzing town!!

For those who want a more relaxing experience you will have the opportunity to relax in tranquil surroundings, go for a refreshing swim in the Nile, or perhaps take a walk through the local villages or visit the markets depending on the day of the week.

Included Excursions: Uganda National Museum
Optional Excursions: White water rafting grade 3 & 5 Half day/full day – from US$115 • Kayaking from US$85 • Tandem kayaking – US$140 • River boarding – US$140 • Mountain Biking hire – from US$15 • Guided tours – from US$30 • Sunrise and sunset yoga by the River Nile – US$5 • Fishing – from US$80
Accommodation: 2 night(s) in tented camps

Day 7: DAY 8 TO 9: NAIVASHA

Today we head to Lake Naivasha where we will spend two nights. Here you will have a full free day to explore the area and chose from many of the optional activities on offer .

Explore the nearby Hell's Gate National Park on foot or by bicycle on a half day tour. With no predators present this is one of the few parks in Africa where you can enter on foot and walk beside wildlife such as giraffe, zebra, gazelle and warthogs to mention a few while taking in the amazing scenery that surrounds you. Don't miss a walk through the beautiful and impressive Hell's Gate Gorge and see why it inspired the stampede scene in Disney's Lion King.

You can also visit Elsamere, the former home of the late Joy Adamson, who became famous for her relationship with the lioness Elsa in the film Born Free.

Due to our location at Lake Naivasha you may awake to some unusual sound effects in the morning; it is often possible to hear hippos wallowing in the lake's fresh water

Approximate Travel Time: Ten hours to Naivasha
Optional Excursions: Lake Naivasha boat trip – KES6000 (price dependent on number of passengers) • Elsamere visit – US$10 (transport not included) • Green crater lake hike half day – US$45 • Hells Gate National Park bicycle tour– US$55. The national park has no animals dangerous to man, making it a safe place to go hiking, rock climbing and cycling.
Accommodation: 2 night(s) in hotels

Day 8: DAY 10 TO 11: MASAI MARA NATIONAL RESERVE

We depart Naivasha early, after breakfast and drive to our lunch spot where we will exchange our expedition truck for 4WD safari vehicles before continuing on to the Masai Mara Nature Reserve. On arrival we get straight into our first game drive in one of the world's most famous and expansive wildlife reserves.

Covering over 1,500 square kilometres and providing habitat for thousands of animals, the Masai Mara Nature Reserve is deservedly one of Kenya's most popular safari spots. Animals present in the reserve include the big five (lions, elephants, Cape buffaloes, leopards and rhinoceros), various grazing mammals which attract carnivores such as cheetahs, hyenas and jackals, and over 500 recorded species of birds. We stay just outside the park in permanent tents, enjoying a buffet dinner in the evening.

The following morning we leave camp early for a second game drive, visiting the mighty Mara River. During the annual Great Migration, this is the setting for the thunderous display of thousands of wildebeest crossing the river while canny crocodiles lie in wait. At any time of year, the river is vitally important to the ecosystem and a good spot to view animals. You will also have the opportunity to visit a local Masai village, learning about the vibrant, semi-nomadic herders' way of life and join them in a local dance.

Included Excursions: Game Drives by 4WD in the Masai Mara National Reserve
Optional Excursions: Hot air balloon over the Masai Mara National Reserve – US$450 per person
Accommodation: 2 night(s) in tented camps

Day 9: DAY 12: NAIROBI

Today we leave the incredible Masai Mara behind and head back to Nairobi. We will arrive back mid-late afternoon and you have the evening free to relax and reflect on the incredible experiences you have had over the last few days.

Returning to Nairobi gives you the chance to experience some of the activities around the capital city you may have missed first time around. You may wish to enjoy a meal at the famous African buffet restaurant called Carnivores, where meat is served from Masai spears until you can eat no more and raise your flag in surrender!

Approximate Travel Time: Four hours to Nairobi
Optional Excursions: Giraffe centre- KES1000pp (excluding transportation), The Flip Flop Recycling Company – free (excluding transportation) • Karen Blixen Museum, coffee garden & cottages – KES2000 and free entrance to the bar (excluding transportation). • Elephant orphanage KES500 (excluding transportation). Only open 11am -12am when feeding.
Accommodation: 1 night(s) in hotels

Day 10: DAY 13: DEPART NAIROBI

Your adventure of a lifetime comes to an end today. If you have a late flight or have lengthened your stay by adding post tour accommodation you will have more time to explore the sights.

Additional Info

PACKAGES INCLUDES:
Tour package
5 nights in 3* hotels, 7 nights in tented camps with beds
Transportations
20 meals
Boat trip on Lake Bunyonyi
Guided Gorilla Trek (including permit)
Game Drives in the Masai Mara Nature Reserve by 4WD
Entrance fee to attractions
Travel Tour Leader & Driver
Local Guides where needed
Escorted from Winnipeg

PACKAGES EXCLUDES:
Flights
Items of a personal nature
Travel insurance

NOTES:
Roommate matching is available.
Approx. airfare: C$1550 pp, including taxes and fees.

PRICES:
C$3299 Per Person + U$680 Local Payment to be paid on Day 1 of the tour.

PAYMENTS:
Non-refundable C$500 + C$400 for Gorilla Trek in Uganda. Need updated passport to book.
Total balance due: Sep 12, 2017
Interested in Leisure Travel?